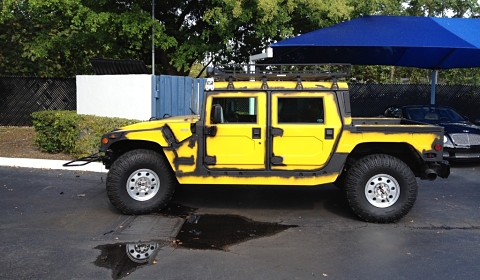 Clearly Exotic posted a picture of a distressed Hummer H1 today. The colouring of the paintwork, matte black and yellow may look like the latest funky wrap design but there is a more sinister side to the story. Alledgedly, the car was wrapped matte black at one point. Recently, that wrap was taken off to reveal this underneath.
Clearly Exotic believe that the wrap company, eager to make sure the wrap looked as good as possible, painted hard to reach sections of the Hummer in black paint so that the true yellow body colour would not show up. It's hard to believe that a company could ruin the paintwork of a customers car so comprensively simply to make their lives a little easier.
Clearly Exotic don't reveal the company who carried out the wrap or whether the owner specifically asked for the work to be carried out in such a way. Hopefully the replacement wrap will be fitted to a higher standard!
[Via Luxury4Play]