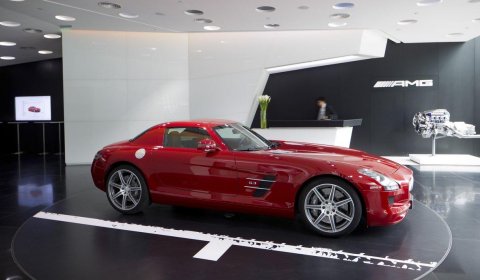 The Beijing Sanlitun AMG Performance Center is the first exclusive store for Mercedes-AMG. The AMG Performance Center in the Sanlitun Village North luxury shopping mall is situated in the centre of the Chinese capital.
Since 2008, 195 AMG Performance Centers have been inaugurated in 18 countries all around the world. Unlike the previous ones, though, the new store in Beijing is not integrated in a Mercedes-Benz dealership as a shop-in-shop.
On two levels and a total surface area of 381 square metres, customers can inform themselves about current AMG cars, about the AMG Driving Academy, the AMG Collection and AMG's involvement in motor sports.
AMG cooperation partners are also represented by special items: Santoni and IWC present their select editions and exhibits. An exclusive Customer Lounge for consultations with customers is available on the upper level.