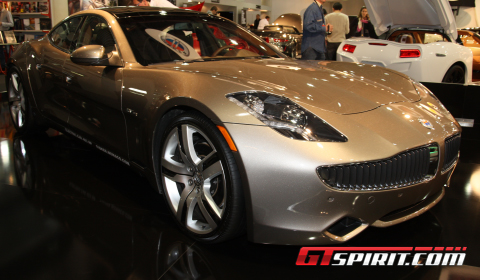 Californian carmaker Fisker Automotive displayed the luxurious and environmental friendly Karma at Top Marques 2012. The four-door a plug-in hybrid sports sedan is one of the first premium green cars on the market, designed according to the philosophy that environmental responsible cars need not sacrifice passion, style, or performance.
The powertain of the Fisker Karma consists of a 2.0 liter 260 horsepower four-cylinder engine, an electric generator, a lithium-ion battery pack, and two electric motors at the rear wheels. The total output of the Californian car is 403hp and 1,300Nm of torque.
The Karma allows the driver to select between two driving modes with the simple shift of the paddle: Stealth mode for relaxed and efficient all-electric driving and Sport mode to access the vehicle's full power. In stealth mode, the Karma can travel 80km on battery power alone. For travel beyond the battery range, the gasoline-powered generator automatically provides power for another 320km.
The Fisker Karma's Sport mode combines power from both the gasoline-powered generator and the battery to give the driver more aggressive acceleration and higher top speed. The powertrain on the Karma sedan uses dual electric motors to drive the wheels – the petrol powered engine never directly drives the wheels. In Sport Mode, the Karma is able to accelerate from standstill to 100km/h in 6.3 seconds and to reach top speed of 200km/h.