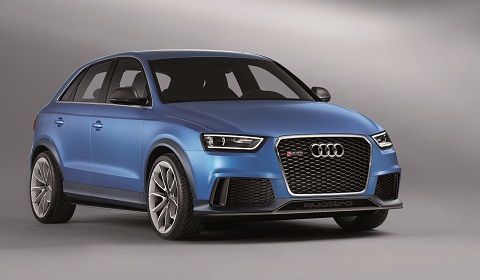 Audi will present the Audi RS Q3 Concept at the Chinese Motor Show in Beijing next week. The announcement doesn't promise a production version of the high-performance crossover. We suspect that Audi are simply gauging the reaction to an SUV RS model, something we haven't seen before!
The Audi RS Q3 Concept gets the 2.5 TFSI engine from the Audi RS3 and the Audi TT-RS. In the RS Q3 Concept it puts out 360hp of power thanks to the turbocharger. This allows it to reach 100km/h in just 5.2 seconds with a top speed of 265km/h (164.66mph). To put this power to the ground, Audi fitted a set of 20 inch tyres.
The power is routed through Audi's seven-speed S-tronic to the front wheels. When the powertrain detects lost traction it can transfer power to the rear axle via a hydraulic multi-plate clutch with electronic control.
The Audi RS Q3 Concept sits lowered to the ground by 25mm. The profile is widened in keeping with RS traditions. Audi fitted a new bumper with larger air intakes and aggressive edges. The front spoiler has a matt black finish and the new parts are manufactured from carbon-fiber-reinforced polymer. Other changes include a roof spoiler, new door mirrors, a diffuser with trademark RS exhaust tailpipes and tinted lights all round.
You'll notice from the pictures that the Audi RS Q3 Concept gets a new single-frame radiator grille. It features offset honeycombs creating a three-dimensional effect with the lower part featuring a silver quattro signature.
The interior of the Audi RS Q3 Concept features a glass sunroof with black surfaces. The instrument panel and large areas of the seat upholstery are fine Nappa leather. Dark blue Alcantara is used as a contrasting element. The paintwork is Ordos Blue!
Let us know what you think in the comments box below!