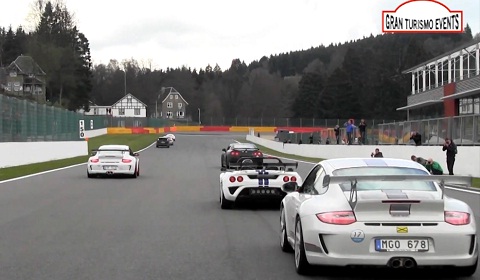 How often do you get to experience the thrill of 55 supercars leaving the pit lane at Spa-Francorchamps whilst you are standing in the middle of the track? Very rarely in the case of YouTube user yd222 which is why, when it happened to him, he had the video camera ready!
The video below shows 55 Gran Turismo Spa-Francorchamps 2012 participants all leaving the pits at the same time on a formation lap. The sound is incredible! The cars range from a Mercedes-Benz CLK 63 AMG Black Series to Ferrari 458's, Porsche 997 GT3's and a Lamborghini LP640!
Enjoy the video with your speakers turned up.