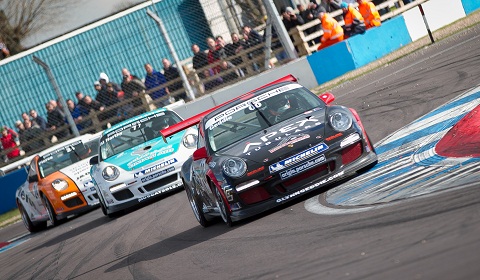 The second round of the Porsche Carrera Cup was held at Donington Park, United Kingdom. The Carrera Cup is on its tenth year and continues to be the prime support race to the British Touring Car Championship.
All drivers race the latest model 911 GT3 Cup and have identical models of the 450 hp car. The car has a 3.8 liter flat six-cylinder boxer engine a weight of 1,200kg and sequential six speed manual gearbox. It is based on the Porsche 911 GT3 RS.
The Carrera Cup has different classifications ranging from Professional, Professional Amateur 1 and Professional Amateur 2.
The one thing that makes this series so exciting is that the drivers dictate the results. The equipment they have is identical and they have to show off their talents to get to the front of the competition rather than having a better race car.
Pole position was taken by Michael Meadows in his Redline Racing No 0 Porsche, for both of the two races. Micheal went on to dominate both races with times of 26:15.709 for race one and 26:16.155 in race two.
Jonas Gelzins set the fastest lap in race one of 1:07.073 and also the fastest lap in race two of 1:07.571 in the Professional class.