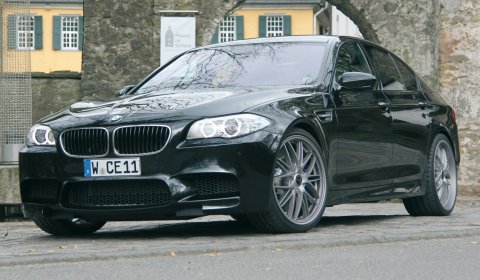 Manhart Racing has released their program for the 2012 BMW F10M M5. They are offering an initial tuning package from April onwards.
In the first performance stage, the V8 twin-turbo will generate almost 633hp and transfer a maximum torque of 780Nm to the axle drive shafts. Plans are currently ongoing to realize further stages with 670 and 735hp. This will require additional modifications to the turbochargers, downpipes and the exhaust system.
For a powerful V8 sound, Manhart has built a self-made flap-controlled sports exhaust system made of steel with four diagonally placed 90mm exhaust endpipes, 200-cell sports catalytic converters and downpipes.
A MHR Club sport coilover kit that is individually adjustable in the traction and compression guarantees an optimized driving behavior, according to the German tuner. Manhart Racing offers the self-made MHR Classical wheel set for the new BMW M5. At the front the wheel size 9.0×21 inch with 255/30R21 tires and at the rear 10.5×21 inch with 295/25R21 tires. The wheel set is combined with a lowering of 35/30mm.
The MHR Classical Wheel set, MHR Club sport coilover kit as well as the sports exhaust system with flap control will be available from mid-April while the first performance stage of the twin-turbo V8 will be available from the end of April.