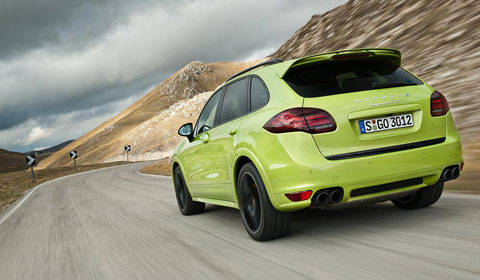 Porsche will officially introduce the 2013 Porsche Cayenne GTS at the 2012 Beijing Motor Show that will open its doors in twelve days. Like its predecessor the latest generation Cayenne GTS bridges the gap between the Cayenne S and the Cayenne Turbo and adds sporty characteristics. The Cayenne GTS has a more powerful engine, a stiffer chassis, lower ride height and sporty interior and exterior equipment.
The 2013 Cayenne GTS comes with a 420hp strong V8 engine, based on the Cayenne S power unit. Power transmission is ensured by the eight-speed Tip-tronic S with integrated auto start/stop function. The 2013 Porsche Cayenne GTS sprints from a standing start to 100km/h in 5.7 seconds, reaching 160km/h in 13.3 seconds. The top speed is 261km/h and the combined fuel consumption 10.7 litres per 100 kilometers.
The specially tuned chassis ensures thrilling driving dynamics, according to the Germans. It is more tautly tuned, equipped with Porsche Active Suspension Management (PASM) and lowers the body by 24mm relative to the Cayenne S. As a result, the 2013 Cayenne GTS is even closer to the road.
The Cayenne GTS's looks features a front-end borrowed from the Cayenne Turbo, frames and trims in high-gloss black, side skirts and wider wheel arches as well as a roof spoiler with twin-wing profile. Inside the cabin, the GTS features a leather interior with Alcantara elements as standard. Front sports seats with eight adjustment options are also featured as standard.
The Cayenne GTS will come to market in July 2012 with a price tag in Germany of € 90,774 including VAT.