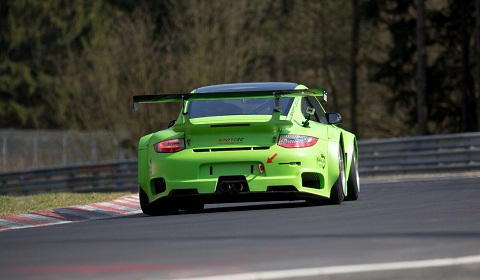 As you will no doubt have heard by now, Gran Turismo Events are holding their first event of the year this week at the Nurburgring. The event ends tomorrow, however, the past two days, the participants have had the Nordschleife and the Grand Prix tracks to themselves. This has allowed them three days of no buses, no tourists, no motorcycles and no traffic!
Mathijs Bertens has been there over the two days to capture the happenings on track and here's the result, yet another fantastic set of photographs. We've talked about the two Koenigseggs at length before, and Agera R and a CCXR. There's also a number of Porsche GT3 RS 4.0's, Porsche GT2's, a rental Artega GT, a Lamborghini LP560-4, a Maserati GranTurismo MC Stradale and a McLaren MP4-12C.
Mathijs captured the action so comprehensively we've had to split to pictures into two galleries! Also on track were a number of race cars including a Ferrari 458 GT3's, Ferrari 430 GT3's, a Sportec-tuned 911, a drifting BMW M5 and a Dodge Viper ACR!
The event was limited to a hunderd cars, however, no limitations were placed on the track. Instead of having to stop at Grune Hölle each lap, participants can continue along another 22km lap. Track days start at 08:00 and finish ten hours later at 18:00 giving the drivers three ten-hour sessions for the sum of £ 3,300 plus taxes!
Organisers also managed to secure Tony Ring and Sabine Schmitz as instructors. Enjoy the photos and be sure to head over the Mathijs facebook page for more!