Park Lane, London is a famous street in the capital of the United Kingdom. It was originally a country lane running north-south along what is now the eastern boundary of Hyde Park. In more recent times though, it has become a three-quarter mile long modern highway. Despite this, it has became a place for the automotive industry to feature their showrooms next to several five-star hotels such as The Dorchester, Grosvenor House Hotel and the InterContinental London Park Lane Hotel.
One of those showrooms is the owned by Bob Forstner, a specialist in the exclusive automotive world. His company is experienced in the sale and international export of exclusive luxury vehicles around the world. He and his team are constantly sourcing rare vehicles to sell within the UK and to their foreign customers. Next to sales, Bob covers brands like Lamborghini, Spyker, BF Performance, Pagani, KTM, Bentley and the watch brand Cvstos.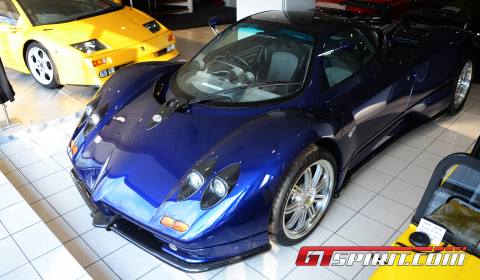 Excalibur Park Lane or Bob Forstner Park Lane is one of two showrooms in Europe. The other showroom is situated in Stuttgart, Germany. The Mayfair showroom in London offers space for at least eight supercars. At the time of our visit, Bob had a Pagani Zonda C12 S, a Koenigsegg CCXR Limited Edition – one of six cars ever built and the only RHD version, a Lamborghini Murcielago BF GT-680, a Lamborghini Diablo and Plymouth Prowler in his showroom. Next to all the cars, you can marvel at the wonderful lineup of accessories available such as watches, t-shirts and memorabilia.
Bob also offers a flying doctor service, which means that no matter where you are in the world, should you need the assistance of one of their qualified service technicians they will have him with you at your cars side within 48 hours of the call out. A superb service for owners who often move their cars around, like the Arabs from Arabia to Europe and back.
For those of you visiting London, do not forget to sneak through the windows of the Excalibur Park Lane showroom. If you interested in any of his cars, on display feel free to drop us a message or visit Bob at his showroom at Park Lane.