Latvian car builder Dartz is preparing a new version of the armored Prombron truck named the Black Dragon. The extended version of the armored SUV will only be available on the Chinese market.
The Matt Black Prombron is 600mm longer than the regular SUV and has a 3+1 door configuration with three doors at the right-hand side. The exterior trim features a dragon badge on the front grille with diamonds, gold and/or rubies. The relings on top of the cabin are silver plated and have a Chinese-styled pattern. The fenders have a similar setup and include a silver plated dragon on each side of the car. The SUV rides on bullet wheels, which include a dragon logo.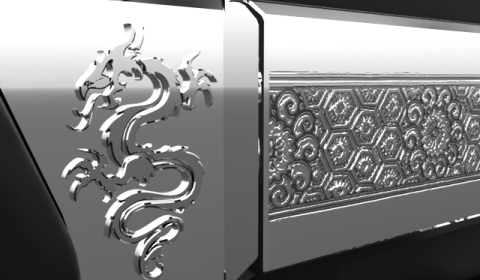 On the inside, you have Satellite TV, WiFi, a 42 inch 3D Phillips Aurea TV and black paino trim with encrusted dragons. A Lead Zeppelin package is available, which includes Pb inserts inside the metal sandwich and 20 inch special Pb glass.
Dartz plans to make at least twelve of these Black Dragon edition cars, only available via the China dealer.