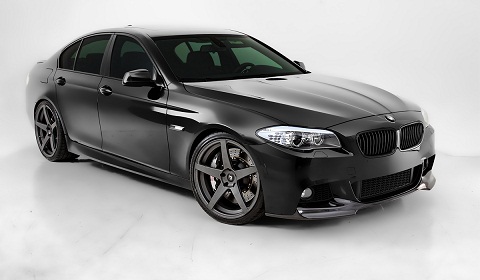 Vorsteiner recently unveiled their package for the BMW F10 5-Series. It's as handsome as ever with a bodykit, a set of wheels and a brand new exhaust system. All parts are manufactured from pre-preg carbon fiber and fit the factory M Tech aero package.
The Vorsteiner V-MS aerodynamic kit consists of three parts, a new front bumper, a rear spoiler and a diffuser. As mentioned above, these parts are all finished in pre-preg carbon fiber and receive a clear lacquer finishing. These parts fit the optional M Tech package. The idea is that owners will find the parts easy to fit and with a minimal modification of the original car.
The wheels are available in 20 or 21 inch sizes. They look like a brand new design, especially for the 5-series as we were unable to find them in the Vorsteiner catalogue. They measure 20×9.5J at the front and 20×10.5J in 20 inches and 21×9.5J at the front and 21x11J at the rear in 21 inches. Both sets are forged.
Finally, Vorsteiner has created a full sports exhaust for the BMW F10 5-Series. It is a full cat back performance system and is fitted as a factory bolt-on with no modifications required. Dyno Tests have revealed that it adds a modest 12hp and 2lb/ft of torque as well as a sporty rumble. The Vorsteiner logo is Laser etched on tips and it comes with adjustable settings.
Enjoy the photos and video, let us know what you think in the comments box below.