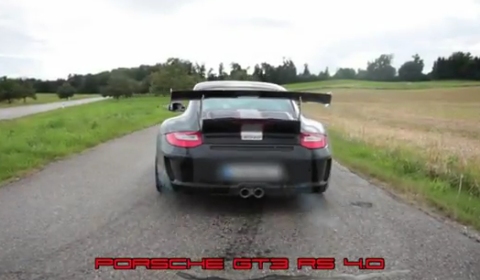 On YouTube we came across the following videos made by an owner of a Porsche 997.2 GT3RS 4.0. The four videos show the most powerfull 911 (997) hitting the Autobahn at high speed up to 331km/h.
The Porsche 911 GT3 RS 4.0 is a limited edition of 600 cars that marks the nearing end of the Porsche 911 997 production, available exclusively with a six-speed sports transmission, sprints to 100km/h from a standing start in 3.9 seconds, and its gearing designed for the racing circuit taking it to the 200km/h mark in under twelve seconds.
The engine itself uses the crankshaft from the RSR with increased stroke dimensions (from 76.4mm to 80.4mm). This change has increased the power to 493hp at 8,250rpm and 460Nm of torque at 5,750rpm. Chassis development has been influenced by the GT2 RS and uses bits from other RS 911s.
Three other videos can not be embedded so these are the links: video two, video three and video four.