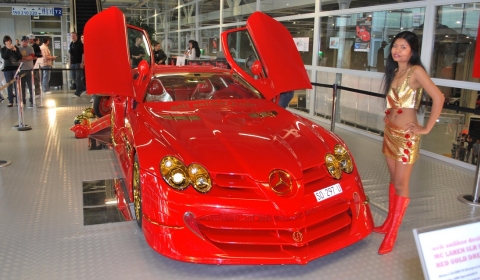 The mother of the overkill scene is for sale! Owned by Swiss entrepreneur Ueli Anliker, the McLaren SLR 999 Red Gold Dream is up for graps for an astonishing $ 11 Million.
The worst tuned SLR ever has a lot of the gold on the car, it is actual 24 carat gold. This includes the exhaust tips, door handles, logos, radiator and the rims, which are coated in the precious metal, among other parts. Theres 24 carat gold Anliker logos everywhere on the car, front spoiler and exhaust vents included. Those have to be replaced or else the new owner will become the biggest fan of the Swiss. Up to 600 rubies have also been used in creating this car. A total of $ 5.4 million of these precious materials were utilised to build the Red Gold Dream.
The vulgar bodykit overclasses FAB Design and ASMA in every single way. The new three tier front spoiler extends the car's length further than anything you have seen before. Apparently this adds 100kg of downforce at 350km/h. The boomarang style spoiler is also supposed to add 150kg at the same speed, the diffuser, 80kg. The car has been painted with 25 layers of this paint giving it a surreal look.
[Via TheRichTimes.com via MotorAuthority.com]