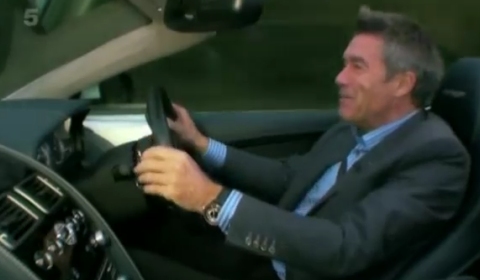 UK car show Fifth Gear tests the 2012 Aston Martin Virage Volante. The roofless luxury sports car is driven by Tiff Needell into the North of France to visit a deserted race track in Reims, Reims-Gueux Circuit.
The Virage is positioned between the DB9 and DBS and unites the technology from the DBS with the comfort and refinement found in the DB9 and Rapide. It is powered by a front mid-mounted 6.0 liter V12 engine which is hand-built. This engine produces 490bhp and 490bhp and 570Nm of torque. The Virage was delivered with Carbon Ceramic Matrix (CCM) brakes. A new aluminium metal front grille, inspired by the One-77, features five horizontal vanes which are chamfered creating an aerofoil profile.
Video showing the abandoned pit buildings at the old Reims road circuit.