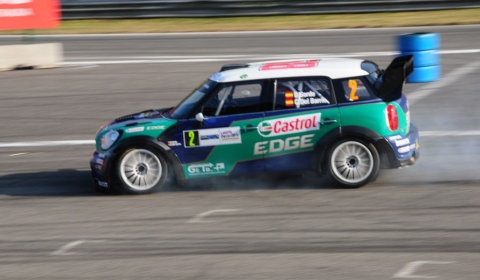 Our Slovenian reporter Sašo Malbaša visited the 9th Rally Monza Show 2011 about a week ago. He send us his story, experiences and two videos.
As always, Monza leaves quite a impression on a man. Actually the race track alone, is legendary, like Imola. Once you get to the race track it's really a great experience for every car enthusiast. We got there early in the morning on Saturday, the 26th.
The party was already on, everyone revving their cars, heating the engines, and preparing tyres. And the contestants? Well, I'm a bit of a racer myself so it really feels special to hear a sound of a tuned engine early in the morning before breakfast. What a life huh?
While walking through the paddock, we spotted some cars, like a Peugeot S2000, Citroen DS3 WRC, Ford Fiesta WRC, Clio's, Fiat Punto Abarth, and Mini Countryman WRC. We also saw some E92 M3's, a Porsche Cayman, a Porsche GT3, a few of Lotus cars, a few Mitsubishi Evolutions and a Corvette Z06. They also suprised us with a NASCAR car, and a Toyota Camry powered by a 5.8 liter V8, revving its engine ment hearing it outside the paddock up to the Parabolica and Ascari. What else did we find in the paddock? Sebastian Loeb and his lovely wife Severine, Valentino Rossi, and Dovizioso.
Finally the walk to the track, hearing the sequential gearboxes on the track. Testing the cars and warmups. So the races are ready to begin, and the chicanes are set for the right amount of damage. We first enjoy the races next to the Parabolica corner and then from Ascari. The sound of cars traveling by us at high speed, just amazing!
The Nascar Camry made a few laps. The sound track of the Camry was just amazing.
After a few races we got a cup of coffee and head out to gift shops next to the track. People wouldn't believe that the Monza track even has a library. We found a lot of nice stuff to take home with us. Racing gear was really cheap. The place was packed with Grand Prix signatures, Rossi hats, shirts, etc.