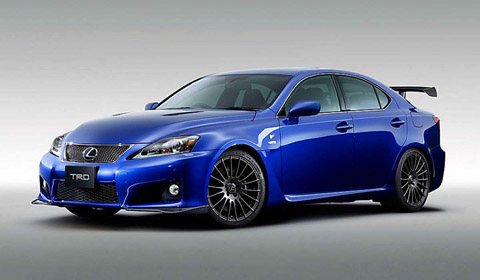 Lexus has unveiled an aerodynamic and mechanical upgrade for Lexus IS-F called the Circuit Club Sport Package.
The Lexus IS-F Circuit Club Sport is developed in collaboration with the engineers from the Toyota Racing Department and inspired by the concept car displayed at the 2010 Tokyo Auto Salon.
The IS-F received a new front spoiler, rear diffuser and bonnet, all made from weight saving carbon fiber. To improve the downforce the Japanese installed a large rear wing. The IS-F is fitted with lightweight forged aluminium wheels, although a set of magnesium wheels is also available. The package comes also with a performance damper kit which offers two different settings that independently adjust the compression.
Gallery: Lexus IS-F Circuit Club Sport Package
The Toyota Racing Development also installed a new limited-slip differential and braking kit. The engine of the aerodynamic and mechanical upgraded version of the Lexus IS-F has not been tweaked. The Lexus IS-F is powered by a 5.0 liter V8 which provides 423 horsepower and 505Nm of torque. The power is transfered to the rear wheels via an eight-speed automatic transmission.
The standard IS-F is able to accelerate from standstill to 100km/h in 4.7 seconds, and the electronically limited top speed is 270km/h. Details about the performance of the Circuit Club Sport has not been revealed.
At this stage there is not word on the pricetag of the package or when it will be available. Click here for more information and our road test of the Lexus IS-F.
Gallery: Lexus IS-F Circuit Club Sport Concept
[Via Motorpassion]