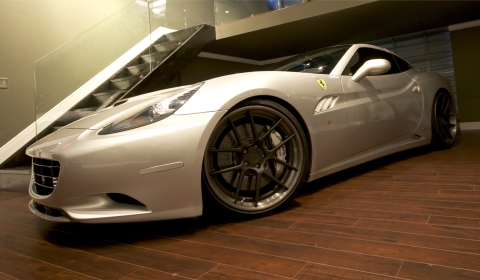 German tuner DMC took a regular Ferrari California and turned it into a carbon fiber PS Monster, at least that is what they call it. The Duesseldorf based engineers created a special body kit utilizing silver carbon fiber. It was the choice of this material which gave the 3S it's name: Surfista Silver Star.
On the front, a silver carbon fiber splitter improves downforce on the front axle at high speeds. On the rear, a silver carbon fiber rear diffuser minimizes the upforce on the rear axle. The license plate bay is refined using a silver carbon fiber apron, which completes the new look and aerodynamic package for the California.
The Germans were able to present a compressor engine that received an increased ability of 606hp, up from 460hp. The four-seater is now able to reach a 325km/h maximum, 100km/h is reached after 3.9 seconds.
The engine is modified using a turbo-loader in combination with physically enlarged injection nozzles and a new tailor made crankshaft. It is supported by a new exhaust sytem that is made if T309 stainless steel. It comes with 200 cell catalysts and an improved X-Pipe and is fully controlable via an on-board valve control system.
DMC's engineers took a special alliance with Miami based wheel maker ADV1. The US company brought in their 21 and 22 inch rims, which are supplying the necessary grip-base to keep the 3S on the street. On the front, 9Jx21 inch rims are used while the rear utilizes 11.5Jx22 inch.