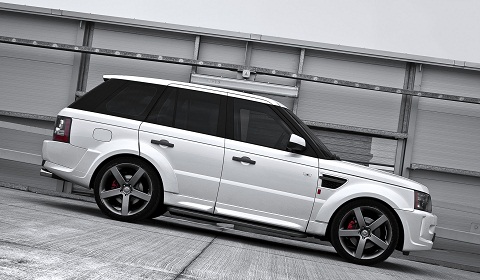 Project Kahn have announced a name change. From now on, the company will be named A.Kahn Design. The name more closely identifies the company with its designer Afzal Kahn. At the same time, they also released the RS300 Cosworth Edition, based on a Fugi White Range Rover Sport.
The 2012 RS300 Cosworth Edition features a Cosworth aerodynamic styling package. It includes a vented front and rear wheel arch with integrated air ducts, led daytime running lights and a Cosworth front grille with 3D mesh.
Inside there's a diamond gear selector, an RS300 rev counter, Cosworth speedo, Cosworth time clock facia insert, Cosworth stainless steel door entry sill plates, Cosworth machined aluminum vented foot pedals, Cosworth quad diagonal exhaust system, brake calipers painted in special heat resistant paint and Kahn branding. This particular vehicle has an ivory interior, however, there are a variety of different custom specs and designs available to suit tastes.
Kahn wheels finish the Range Rover. The style is called Kahn RS/R and they are available in sizes 9.5×22 and 10.5×22. This vehicle is available for £ 65,875, around € 76,923 at todays exchange rate.