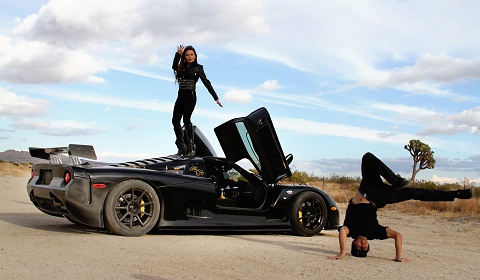 As far as new car releases go, this is the cheesiest we've ever seen. Which is why we assigned this article to the overkill category. Mosler, or more specifically, Mosler-importer Supercar Engineering Inc have released the Raptor GTR via a music video featuring a singer named Abby Cubey.
The video itself has attracted a lot of attention recently. Perhaps we should leave you to check it out and leave us your opinion on it. Instead, we'll get on with introducing the car. It's a modified 2012 Mosler MT900, fettled by ex-Mosler engineer J. Todd Wagner. It features the same 7.0 liter V8 as the standard MT900. However, this car has been fitted with twin-turbochargers, boosting power to 838hp.
In a car that weighs just 1,173kg, that means a 0-100km/h time of just 2.3 seconds. Faster than a Bugatti Veyron. Whether these claims are true or not, the figures look mighty impressive. Carbon fiber has been applied liberally.
The cost, $ 700,000 or 517,000 euros at today's exchange rate. 15 percent of the purchase price will be donated to charity. For an extra $ 70,000 the vehicle can be upgraded to 1,212hp. For this you also get a name change, your Raptor GTR then becomes your Cubey GTR. This upgrade package will be limited to 12 cars though, so you better act quickly…
Interestingly, Mosler refuses to associate itself with the project. There seems to be a feud between Mr J Wagner and Mosler Automotive's General Manager and Vice President of Operations Jill Wagner, his ex-wife.
[Via Autoblog.nl, DuPontRegistry]