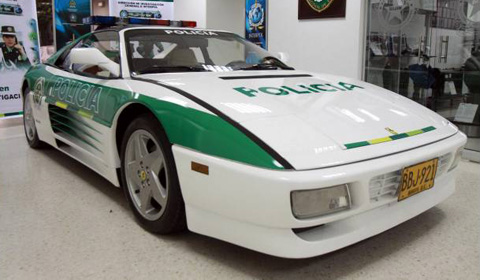 The Columbian police has proudly unveiled their latest police car: a Ferrari 348 TS that no one wanted to buy. Or better said, a car that no one dared to buy.
The 1991 Ferrari 348 TS was owned by drugs lord Luis Hernando Gómez Bustamante. In 2004, Colombian police conducted raids against Gómez Bustamante, stripping him of 68 farms, 24 offices and 17 parking lots as well as other items and properties, a total worth listed at over 100 million. Among the seized assets was his Ferrari. Bustamante was transported for extradition to the United States on charges of money laundering, drug smuggling and much more in 2007.
His Ferrari 348 TS was seized by Colombia's National Drug Office (DNE), which was responsible for disposing of seized assets. This department has offered the Ferrari for sale, but in September the DNE was shut down because many seized assets mysteriously disappeared without explanation.
The 300hp V8 powered Ferrari has only driven 1,200 miles (1,900km) and was valued at US $ 250,000 by Colombian authorities, a far cry from the car's current market value. But the DNE failed to sell the Ferrari and not only because of the price tag.
The DNE's last director, Juan Carlos Restrepo, told The Associated Press he believes it couldn't sell the Ferrari because buyers feared that Bustamante's family might come looking for it and the drug office staff feared that if it fetched a low price at an auction they could be accused of selling the state short.
So now the Ferrari was turned into a police car. The 348 was painted green and white, the colors of Colombia's national police. They will put the Italian sports car on show and plans to tour the country before parking it in a police museum.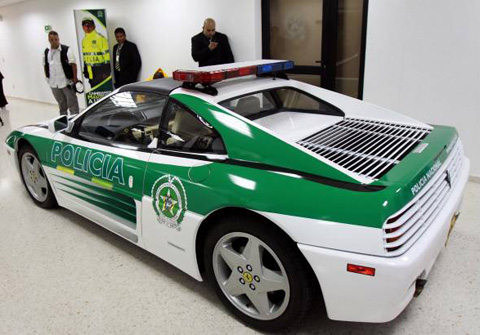 [Via Autoblog.nl & Carscoop]