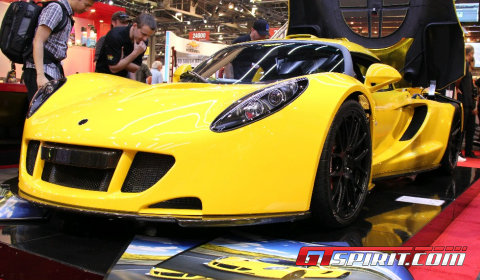 The yellow Hennessey Venom GT was showcased at the SEMA 2011 Motor Show in Las Vegas. The US tuner and car maker positioned the powerful sports car on the stand of Meguiars.
The model is powered by a twin turbocharged Chevrolet LS-series aluminum V8 producing 1,200hp and 1,135lb-ft torque mated to a six-speed Ricardo manual transaxle. The Venom is capable of hitting 100km/h in about 2.2 seconds. Top speed will be 262mph. Stopping the sports car? 15 inch, six-piston front, four-piston rear, Brembo carbon ceramic brakes are available at your command.
The carbon fiber body is windtunnel tested and includes an active rear wing to ensure enough down force on the rear wheel drive.
For those of you would like to see the car in action click here.