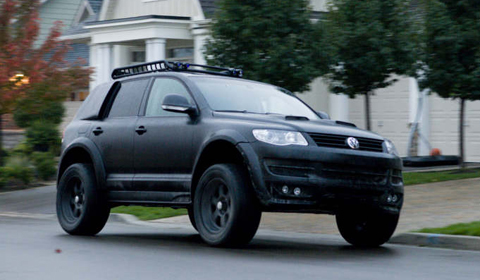 Repo Men is a 2010 American-Canadian action film starring Jude Law, Forest Whitaker and an impressive SUV.
Set in the future, this film is about a repo man named Remy (Jude Law) whose body has been constructed almost entirely of artificial organs. When Remy fails to keep up on payments for his recent heart transplant, his former partner Jake (Forest Whitaker) vows to take back the organ by force if necessary.
Another star of the film is a modified Volkswagen Touareg driven by the repo men. This SUV has been upgraded by LLTeK, the North American importer for Germant tuner JE Design.
The modified vehicle featured in the movie started off as a stock VW Touareg. LLTek then supplied a variation of Touareg styling product from JE Design. The LLTek products provided were the flaring around the wheels and front spoilers. The modified styling kits were then further tailored by the film production crew, in order to create a unique and distinctive vehicle called a Repo Truck.
What do you think about this VW Touareg? Feel free to share your thoughts in the comments below.
[Via Autofans.be]