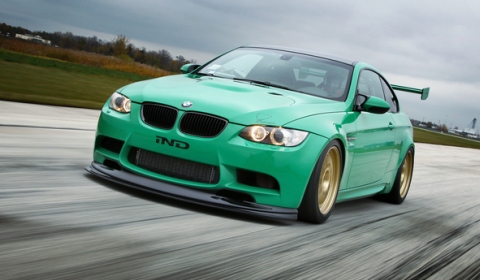 Chicago-based tuner shop IND has released the updated version and latest addition to the portfolio of BMW projects: Green Hell BMW M3 Coupe aka Meaner Than Hell.
IND's story behind the project is rather unique and filled with emotion. IND's Green Hell Portfolio Project car was first conceived as a concept immediately following an amazing journey to the home of all European motorsport and BMW's own home country, Germany. The trip served as fuel to inspire the original Green Hell project, a car that was built as homage to all things racing and the Nurburgring in particular.
Again, the focal point of the project is the car's engine. Fed compressed air by an ESS stage 2 supercharger kit, the S65 engine in Green Hell is main subject in this package. Generating over 530 horsepower at the rear wheels makes for a car where every supporting modification must be planned around this power level.
Additional changes were included with respect to the wheels, body work, suspension, aerodynamics, interior and technical parts such as the intercooler.
To read the complete story about the overhaul and behind the vehicle check the post at BMWblog.com.