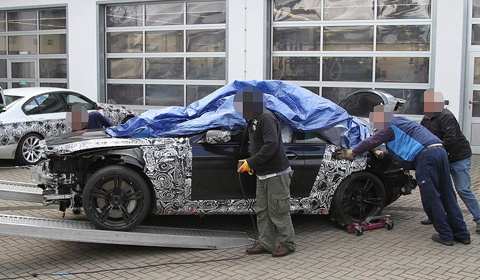 A 2012 BMW F12 M6 prototype has crashed at the Nürburgring last week. The accident happened during an endurance test of 300 laps at the famous Nürburgring Nordschleife. With only eight laps to go, the driver of the M6 lost control and crashed the prototype, damaging the front and rear of the car.
This is not the first time a prototype of the M6 crashed at the German circuit. Back in August another M6 prototype was damaged when the driver lost control due to wet conditions and crashed into the barrier.
The 2012 BMW M6 will be powered by a the same twin-turbo 4.4 liter V8 as the BMW M5 F10M. This engine provides 552hp and 680Nm of torque. It will likely be paired to seven-speed M Double Clutch Transmission which should enable the car to accelerate from 0-100km/h in less than 4.5 seconds.
The next generation BMW M6 Coupe will be unveiled at the Detroit Motor Show next January.
For more pictures check out Auto, Motor & Sport.