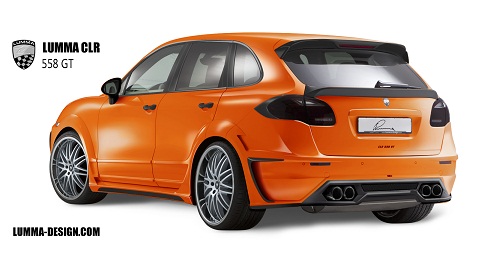 Lumma Design unveiled a new part of their website recently which allows you to configure their CLR 558 GT, based on the Porsche Cayenne, in a wide variety of different colours and options. It's a really comprehensive tool allowing you to change options for the standard machine until you find a look that completely suits you. You can get access to it by clicking this link.
Options allow you to change the second generation Porsche Cayenne's wheels between a variety of 22 and 23 inch designs and silver, black or body colours available for most of these options. Twelve colour options are available and two different styles of exhuats; a more conventional quad-exhaust system and Lumma's three-pipe system. You also have various options for the carbon fibre accents visible on the German SUV.
Just to recap on the features of the Lumma Design CLR 558 GT, as you can see it is based on the second generation Porsche Cayenne Diesel. Lumma Design have increased power by 36hp to a total of 276hp and torque is now 80Nm higher at 630Nm. The modifications include a complete bodykit consisting of a front spoiler, rear bumper, side skirts, sporty looking bonnet and rear spoiler.
As you would expect from such a niche manufacturer, Lumma Design cater for any taste with their interiors which means there isn't much to be said for that area. The Lumma Design Porsche Cayenne CLR 558 GT was first released at this year's Geneva Motor Show. For full details on the vehicle, click here. For photos from Geneva, click here. The link for the configurator, once more, can be found here.
Finally, feel free to post links to your final Lumma Design Porsche Cayenne CLR 558 GT pictures in the comments box below, our attempt can be seen in the header above!