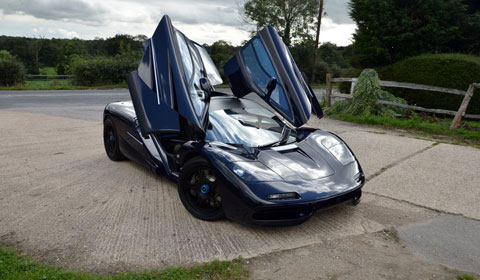 Pistonheads forum member Flemke had a little accident in his McLaren F1 a while back. We reported on it August 2010, since then the car has been fixed and is now back on the road with a new look.
The accident happened on the B48 near the exit for Bendorf towards Trier in Southern Germany. The diver was making progress in the third lane of the three-lane highway when with no warning, the driver in the second lane swerved directly into the third lane. Flemke then slammed on the brakes and swerved to avoid the possibility of an accident. At the same time, the two other cars positioned in lane two applied their brakes and Flemke ended up hitting the back of these cars.
Much like last weeks Nurburgring accident, the cars were all slowing down for road works which, in this case, had closed the whole of the carriage way. The whole event was an unfortunate accident which left the car in a state of disrepair. Fast forward to September this year and the car is now back on the road.
Work has been carried out on the suspensions, the wheels, carbon discs and pads, bespoke dampers, a full service with new bodywork to replace the damaged items and a full factory repaint. The result can be seen from the pictures below. The car is now Dark Blue with white accents along the flanks and a small tribal design on the front bonnet. Inside, a new interior design sees black seats finished with a vivid blue accent.
Thanks to Pistonheads members and our friend Shmee150, we can now bring you videos and photos of the car!