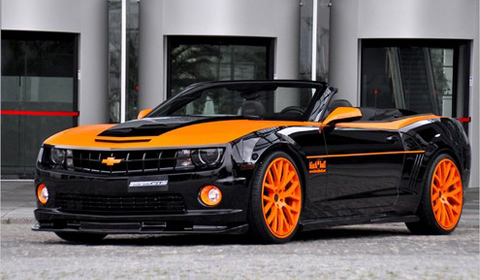 German tuner Geiger Cars has unveiled their package for the Chevrolet Camaro Convertible SS. The Munich-based company specialized in American cars has enhanced the performance and appearance of the muscle car.
The 6.2 liter V8 has been fitted with a supercharged which boosts the power up to 568 horsepower instead of 430. The torque also increased from 570Nm to 779Nm.
An adjustable suspension along with a sport exhaust system is comes with package as well. The Germans also fitted and bright orange 22 inch wheels wrapped in 265/30/R22 at the front and 295/25/R22 at the rear. Furthermore the exterior has been modified by installing a new chin spoiler, side skirts, rear diffuser and rear wing.
The Chevrolet Camaro Convertible by Geiger Cars is available for € 85,000. For more information contact Geiger Cars.