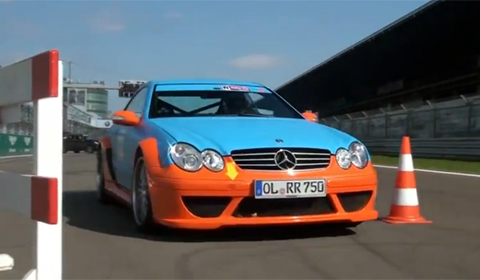 The Scuderia Hanseat is a driving course organized every spring and autumn at the famous Nürburgring. This event where the joy of driving is combined with improving driving skills features many remarkable and exclusive cars.
A great example of such remarkable car at the last edition of the Scuderia Hanseat is the Mercedes-Benz CLK DTM AMG. This car is based on the racing car that entered the German Deutsche Tourenwagen Masters (DTM) racing series.
The Mercedes-Benz CLK DTM AMG is powered by a supercharged 5.4 liter V8. This engine provides 582 horsepower and 800Nm of torque. Thanks to this the CLK DTM AMG is able to accelerate from standstill to 100km/h in 3.8 seconds, and top speed is limited to 322km/h.
A total of 100 coupés and 80 convertibles were produced. This video featuring four of these rare cars is made by SpotterGijs. For more videos check out his Facebook or YouTube.