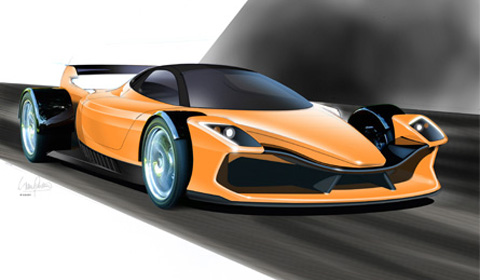 The Hulme CanAm Spyder is a very exclusive high-performance car named in honor of Denny Hulme, New Zealand's only Formula One World Champion and double CanAm Champion. Now the New-Zealand based company has announced the even more powerful Hulme F1.
The Hulme F1 is based on the CanAm Spyder and inspired by modern day racing technologies. The car features a F1 style high down force generating aero package with push-rod suspension to provide superior road holding, handling and ride comfort. Compared to the Hulme Can-Am, the front and rear wings of the F1 are re-designed based on the latest F1 information, to improve aerodynamics and airflow of the car.
The Hulme F1 will have the latest crash absorption systems in place and a fully developed ABS electronic driver aid system to provide a safe driving experience. To achieve the 1080kg vehicle weight it will use a state of the art carbon/titanium/kevlar composite chassis and composite body panels.
The car will be powered by a hand built, supercharged engine which provides 700 horsepower. This engine is being developed with the help of the famous engine builders "Nicholson McLaren" owned in part by Bruce McLaren's engine man from the 60's and 70's, John Nicholson. It will provide amazing torque and tractability.
According to Hulme, this car will be build according to the same level of quality as Pagani. The car will be built as a road going car to comply with the European Small Series certification for use in all 27 EU states plus many others that accept EU certification.
Hulme Supercars are accepting "Options to Purchase" agreements for the very limited, first years production, with delivery starting in late 2012.
[Via Autoblog.nl]