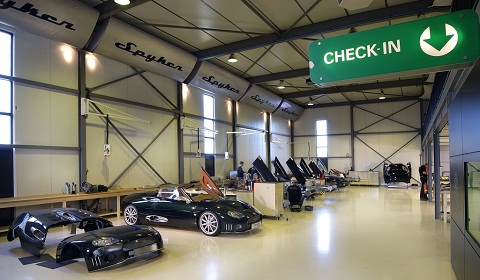 Following the news this morning that North Street Capital has agreed to buy Dutch luxury car maker Spyker from its parent company Swedish Automobile, the other player in this take-over has send GTspirit an official reaction, which you can read below.
CPP Global Holdings notes with interest today's announcement from Swedish Automobile N.V. regarding the proposed sale of the Spyker business to North Street Capital.

Brendan O'Toole, founder, managing director and co-owner of CPP, said: "Although a February 2011 Memorandum of Understanding between CPP and Spyker's owner, Swedish Automobile, lapsed in June 2011, we have remained patient and discussions have continued. Until we are informed that Swedish Automobile is no longer willing to discuss the Spyker sale, we are still keen to progress our proposed acquisition."

If Spyker is acquired by another entity, CPP will continue to offer its support in future engineering programmes, body and chassis production, and final trim and assembly of Spyker models. CPP has unique knowledge and experience of the current model line-up, and its purpose-built assembly facility in Coventry is ready to immediately 'switch on' production of the new flagship Spyker C8 Aileron supercar.

CPP recently announced plans to consolidate its operations at an all-new Browns Lane, Coventry engineering and production facility from 2014. Whether or not CPP concludes its acquisition of Spyker or remains the production and assembly partner for Spyker under different ownership, CPP's Browns Lane redevelopment plans will be unaffected. The proposed new vehicle assembly facility – one of a number of CPP operations to be consolidated at the Browns Lane site from 2014 – will produce the fully-homologated road-going variant of the next generation all-terrain supercar, the Bowler EXR, and the recently-announced new Jensen Interceptor. CPP is also in advanced stages of discussions regarding further ultra-low volume vehicle engineering and production projects.
So following this story, it seems that CPP and Vladimir Antonov will still be involved in the development of the Spyker brand and its models in the near future, eventhough they are not taking over the complete business right now.