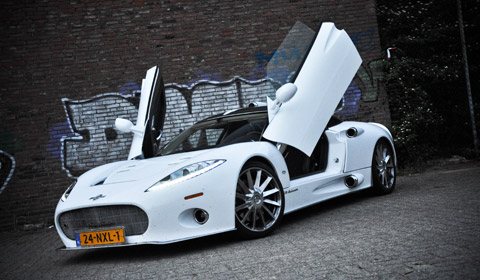 An US private equity firm North Street Capital has agreed to buy Dutch luxury car maker Spyker from its parent company Swedish Automobile.
Initially the Dutch-listed Swedish Automobile made an agreement in February this year to sell Spyker to Vladimir Antonov and his CPP Global Holdings for an initial 15 million euros. But at the end of August plans changed and the deal with Antonov was put on hold.
Financial details of the latest transaction have not been released so far. The Financial Times, who reported on the news, said it had seen a draft announcement from North Street about the deal.
Spyker released a press release stating the sale has reached a conditional agreement:
Swedish Automobile N.V. (Swan) announces it has reached conditional agreement with North Street Capital, LP (North Street) about the main terms of the sale of the Spyker sportscar business.

The indicative terms of the transaction envisage net proceeds to Swan of approximately EUR 32 million if and when the sale would become wholly unconditional. Since the Spyker assets are pledged to Tenaci Capital B.V. (Tenaci) the net proceeds of a sale will be used to redeem Swan's debt to Tenaci.

North Street has a long term view on the development of the Spyker brand as an ultra high-end super sportscar manufacturer and has the resources to see such development through. Victor R. Muller will remain on as CEO and the continuity of Spyker's relationships with all its stakeholders and clients is warranted. There can be no assurance that the negotiations can be completed successfully and that final agreement can be reached on the above or different terms. North Street is a Greenwich, Connecticut USA based private equity firm. North Street managing partner Alex Mascioli is a life long race car driver.
You can read the first interview with the new owner right here.