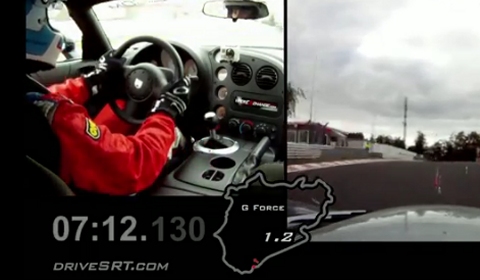 Veteran GT driver Dominik Farnbacher has piloted a street-legal, 600-horsepower 2010 Dodge Viper SRT10 ACR to a new record lap at the world's most demanding road course, the famed 12.9-mile Nürburgring Nordschleife.
On September 14, 2011, the Dodge Viper SRT10 ACR recaptured the production car lap record with a 7:12.13 elapsed time from the Lexus LFA Nurburgring Edition by nearly two seconds. With no 2011 model-year Dodge Viper cars being produced, SRT joined forces with the Viper Club of America and the ViperExchange by Tomball Dodge team from Tomball, Texas, which supplied two brand-new 2010 Dodge Viper ACR's off their showroom floor for the record-setting effort.
SRT's first official visit to the Nürburgring took place in August 2008 when the newly launched 2008 Dodge Viper ACR came to Germany with driver Tom Coronel and established a new production car lap record time of 7:22.1, a record that stood through much of 2011.