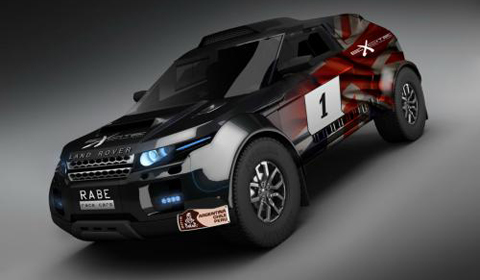 Britain's Excite Rally Raid Team will enter the famous Dakar Rally with a Range Rover Evoque powered by a BMW engine.
The is not the first time the Bavarian carmaker meets the British four-wheel-drive specialist. BMW acquired the Rover Group, including Land Rover in 1994 and owned it for six years. But in 2000 the Rover Group was broken-up by BMW because of huge losses and Land Rover was sold to Ford Motor Company.
Excite Rally Raid Team will enter the 2012 and 2013 Dakar Rally with three purpose-built vehicles. The 1,900kg weighing rally cars are made by RaBe Race Cars and feature a tubular chassis, the body of the Range Rover Evoque and the 3.0 liter diesel engine from BMW. This engine provides 275hp and 650Nm of torque.
Furthermore the cars will be equipped with aa ZF six-speed transmission, a Reiger coil-over suspension and 16 inch wheels with BF Goodrich desert racing tires. The fuel tank will have a capacity of 260 liters.
The three BMW powered Evoque's will be driven by Martin Rowe, Andrew Coley and John Hardy. For more information visit Excite Rallye Raid.