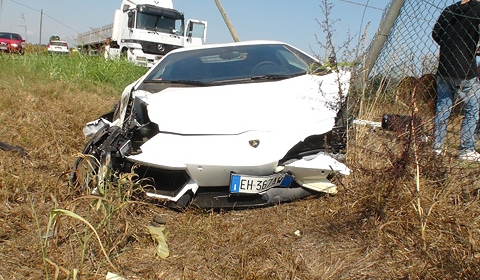 A few weeks ago we reported about the very first Lamborghini Aventador crash, which was wrecked by Austrian journalists at Autorevue.at. The white press car was used by Top Gear to do their road test of the Italian bull. The magazine stated:
We are not proud of it, but we chrashed the first ever Lamborghini Aventador. Austrian Bestseller-Author Thomas Glavinic, who is writing for our sportscar-issue was driving the Lamborghini Aventador. We were heading towards Adria Raceway, a racetrack in Italy. Then the crash happend. Thomas was not too fast. A truck, which changed the lines, just hit him.
The Aventador ended up in a ditch next to a rural road in the province of Padua. The Aventador suffered some serious damage to the front wheels in the crash but the carbon fiber monocoque stayed completely intact. Check the new pictures below and look at the damage to the Aventador.