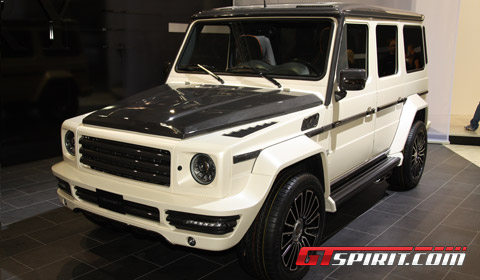 At the 64th International Motor Show in Frankfurt, Mansory has presented its customization program for the Mercedes-Benz G-Class.
The exterior of the G-Class is widened and enhanced with a new bonnet, wing attachments, side skirts, diffuser and rear spoiler. All these components are made of ultra-light carbon. Also carbon has been used as trims for its headlights, taillights, and spare wheel cover.
Even more impressive are the modifications under the bonnet. The Mansory G-Class is powered by a V12 with four turbochargers. As a result, this G-class is now bursting with a whopping 825 horsepower at 5,500rpm. The torque increased up to 1,150Nm (electronically limited) at 2,200rpm. The sports exhaust system is fitted with a racing-type catalytic converter to provides an impressive sound.
In order to transfer this enormous power of the all-wheel-drive to the road, Mansory has equipped the Mercedes with four high-performance Scorpion tyres (305/35 R 23) made by Pirelli. The new one-part SUV rims measure 23 inches.
According to some customers the driving characteristics of the Mercedes G-Class on tarmac roads was too firm. Therefore Mansory has developed a suspension which is electronically adjustable from the cockpit, with two different characteristic shock absorber curves. After fitting, the shock absorbers can be readjusted from the interior of the car for use on tough terrain or for a comfortable drive. Extra large gas reservoirs, made from high tensile hard anodized aluminium, ensure that the pressure remains constant even at operating temperatures of over 150 degrees. The system further features a 22mm stainless steel piston rod and damper oil specifically suited to the high demands.
High quality accessories and stylish interiors are supplementing the line-up. Mansory has used the finest leathers inside for the inside. The exquisite overall impression is enhanced by the airbag sports steering wheel and the aluminium pedal system.