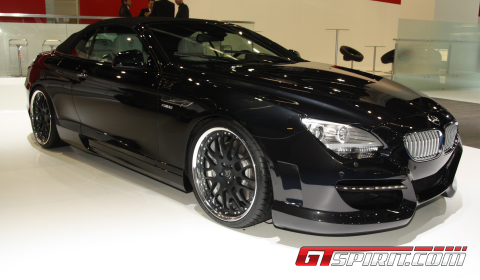 The Germans from Hamann kept their word and released the complete package for the BMW 6 Series Cabriolet at the Frankfurt Motor Show 2011 today. Hamann has a full lineup of parts available for the Bavarian sports car.
The convertible displayed on the Hamann stand features a lowering kit that lowers the sport cabriolet's center of gravity up to 30mm, a performance upgrade that will boost the output up to 510hp and a Hamann Sport Exhaust System with four stainless steel tail pipes.
The tuned BMW 6 Series Cabriolet has a body kit with new LED daytime running lights, sporty-dynamic front spoiler, rear apron, rear spoiler, and a set of Hamann side skirts. Hamann offers three different sets of wheels in 20 and 21 inch including the Design Edition Race "Anodized" with high-gloss chrome-plated rim flange, black spokes and titanium screws and the Design Anniversary Evo wheels in silver or matte black. Hamann Motorsport also offers the Design Edition Race matte black wheels in a 20 inch version. All three wheels are visible in the gallery below.
Inside the BMW 6 series Convertible the modifications available so far are fairly limited with an aluminium set of pedals and footrest, and Hamann branded floor mats. In addition to the existing, factory-supplied interior design, the Germans offer components made of the finest black anodise aluminium. Any request is possible and will taken care of by the German tuner from Laupheim.