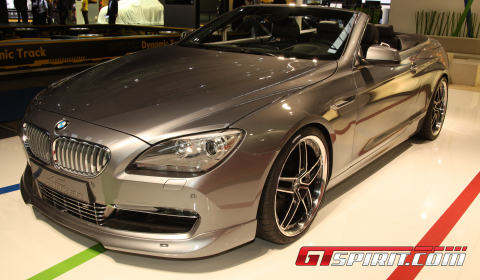 German tuner AC Schnitzer celebrates two world premieres at the 2011 IAA Frankfurt Motor Show. Not only was the BMW 1 series M Coupé by AC Schnitzer unveiled, the tuner from Aachen also presented the AC Schnitzer ACS6 Convertible.
Introduced in the spring of this year, the open 6-series received an overhaul by AC Schnitzer. The Germans not only improved the performance of the BMW 650i Convertible, but they also slightly changed the appearance by making it more aggressive.
The eight-cylinder engine of the BMW 650i Convertible by AC Schnitzer was tuned from the standard 407 horsepower to a more impressive 540hp. The torque increased from 600Nm to 750Nm. Thanks to this, the AC Schnitzer ACS6 Convertible is able to accelerate from 0 to 100km/h in 4.4 seconds. Additionally, the top speed is increased to 310km/h.
For braking power, AC Schnitzer has installed a high performance brake system. Also interesting is the silencer which suits the more powerful character of the ACS6 Convertible better. The AC Schnitzer twin sports rear silencer with chromed "Sport Trim" tailpipe trims right and left means that the 650i can also be seen and heard from behind.
The bodywork has been enhanced as well. A new front spoiler, chromed front grille and chrome decor strips are all optional. There are also rear skirts inserts and loading lip protection film to give the bodywork of the 6-series cabriolet a finishing touch. For the interior many options are available, including a new steering wheels and aluminum parts. To round off the appearance of the car, AC Schnitzer offers different four kind of wheels.
For a first drive and photos of the 2012 AC Schnitzer ACS6 5.0i click here.