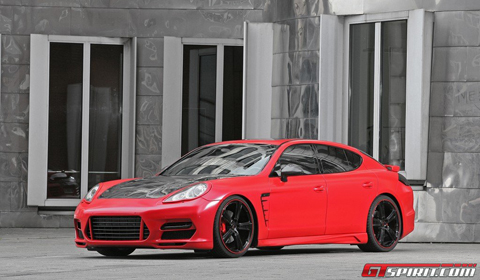 Anderson Germany has officially unveiled their package for the Porsche Panamera. The tuner from Düsseldorf has created an impressive matte red Panamera with more power.
For the exterior, the tuning package for the Porsche Panamera consists of the radiator cowl, as well as the corresponding pendant on the top, the side channel bar, sports air intakes, a rear wing and a hood entirely made out of carbon. The headlights has been equipped with LEDs and the rear lights can be ordered in tinted version.
The black rims with a contrasting red stripe measures 10×22 inches with tires in sizes 265/30-22 and 295/25-22, giving room for a even more powerful braking system. The suspension has been lowered by 40mm. Anderson Germany was able to boost the output to a total of 585 horsepower, thanks to the exhaust system and software optimization.
On the inside, the German tuner has installed a carbon fibered sports steering wheel, molding, and console in front and back. The interior is fully trimmed with carbon leather with black Alcantara. There are diamond-shaped seams in Alcantara upholstery. The legroom in front and back is illuminated with red light emitting diodes. The guard bars, as well as the lights covering on the ceiling is made in lacquered black. And the most remarkable is the sound system with lockable monitor with the PS3 and DVD functions, which ensures the proper sound.