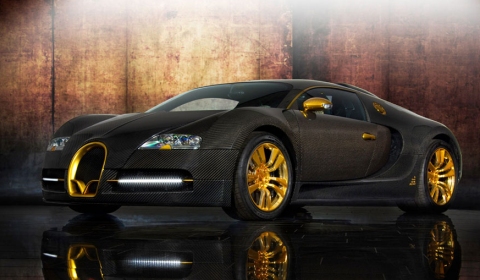 Mansory is a tuning company that specializes in the modification of high-end automobiles. One of their most exclusive cars is currently for sale, the Bugatti Veyron based Mansory Linea Vincero D'oro.
The Linea Vincero D'oro received a facelift consisting out of gold-colored parts like the wheels, grill, door handles, rear view mirror caps and the fuel tank cap. The headlight washer nozzle covers, the borders around the daytime running LEDs and the decorative features on the roof are all gold too.
Other new features include a redesign front end and a stylized letter 'V' (for Vincero) in the radiator fence. Up front, Mansory added new LED running lights, fenders, a shortened bonnet, a new front apron, side skirts and a new diffuser as well. Larger air outlets at the rear and at the sides of the car improve the engine cooling. All body components are made from a carbon fabric with inbuilt copper thread.
More 'bling' can be found on the inside. The entire passenger cabin is a combination of a golden glow of the lighting and carbon appliqués as well as specially embossed leather. The airbag steering wheel has inbuilt shift paddles and gilded elements. Gold alloys can also be found on the decorative strips of the door trims and on the centre console.
The engine of the Mansory Linea Vincero D'orohas not been tuned. So the output of this car is similar to the standard Veyron which produces 1,001 metric horsepower and generates 1,250Nm of torque. The result of this massive power is well known, the Veyron accelerates from zero to 100km/h in 2.46 seconds while the top speed is over the 400km/h.
Interested? The only Mansory Linea Vincero D'oro in existent is currently being offered at Mobile.de for a price tag of € 2,200,000.