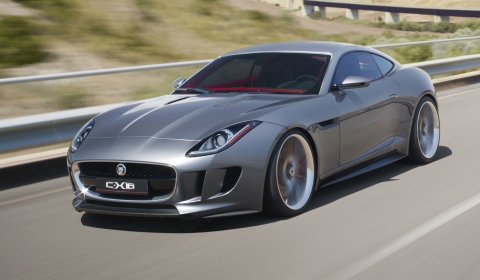 Jaguar has released their details of the C-X16 concept ahead of its world debut at the 2011 Frankfurt Motor Show next week. The two-seater concept marks a new future for Jaguar with respect to technique and design.
Under the bonnet the Brits fitted a next-generation supercharged V6 petrol engine producing 380hp and 450Nm of torque. The performance of the C-X16 is further supplemented by a Formula 1-inspired hybrid boost system with a steering-wheel mounted button for on-demand acceleration.
Integrated into the eight-speed gearbox is a motor generator which draws power from a 1.6kWh battery pack mounted behind the seats for ideal 50:50 weight distribution. Charged through a brake energy regeneration system, the batteries allow the motor to provide an additional 95hp and 235Nm.
Mounted in an aluminium chassis structure, the result is 0-100km/h acceleration in 4.4 seconds, a top speed of 300km/h and acceleration from 80-120km/h of 2.1 seconds. The C-X16 is also able to travel at speeds of up to 80km/h under electric power alone.
The C-X16 measures 4,445mm in length, 2,048mm in width and 1,297mm in height and has a wheelbase measuring 2,622mm. In terms of overall length, the C-X16 is the smallest Jaguar created since 1954 and the XK120.
Stay tuned for more information and the first live pictures on the Jaguar C-X16 Concept from the IAA 2011 starting in less than a week.