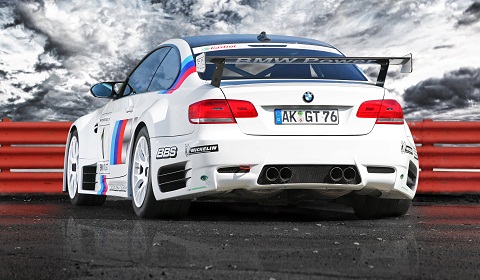 CLP Automotive specialises in body kits from Georgensgmünd, Germany. Today we received information on their latest kit for the BMW M3. The first part focuses solely on the cosmetic aspects of the car and tries to emulate the look of BMW racers. They also offer a performance enhancement for those wanting the full package.
It's called the BMW M3 GT and will cost € 8,880. For that, you'll get the front bumper section in carbon, a new bonnet, front wing, side sills, rear apron and a new rear spoiler.
New 9×19 and 12×19 inch sports alloys have been added with a white colour, the look has been further perfected with central wheel nuts.
A power increase can be offered. This slots in a compressor, for around 600hp. With this, an Akrapovic titanium exhaust system completes the enhancements and contributes a new acoustic link.
Inside there are Recaro bucket seats. For a total reconstruction expect to pay € 69,000.