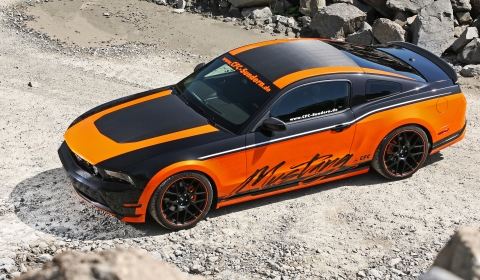 Design-World Company in Sundern, Germany, has released their take on the Ford Mustang.
The company gave the originally equipped 2011 Ford Mustang engine with 412hp a slight improvement. Now the engine has 435hp. This increase has been achieved by an open air filter with air box, as well as software optimization.
The alloy wheels of 8,5×20 inches with 255/35ZR20 tires on the front axle, and of 10×20 inches with 285/30ZR20 tires on the back axle are actively supported by a thread undercarriage from H&R.
On the outside, the black painting of the Mustang GT remained unchanged. The foil finish with contrasting color nuances in metallic black, metallic orange, white, and the carbon foil. On the inside you will find a Shaker 1000 CD/MP3 sound system.
The total cost of the reconstruction of the "CFC-Sundern Mustang Project" is 12,150.00 euro.