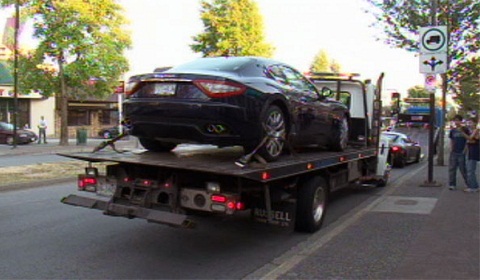 British Columbia Mounties are said to have impounded thirteen supercars out on what's being called a 'street race' by the force and the media. The list of cars included three Lamborghini Gallardos, three Nissan GT-Rs, two Maserati GranTurismos, an Audi R8, an Aston Martin DB9, a Ferrari 599, a Mercedes SL63 AMG and a Mercedes SLS AMG. The drivers will have to pay fines of $ 196 each as well as impound charges and face having their licenses suspended.
The police impounded the thirteen supercars after calls from witnesses who said that two of the group would block traffic while the rest raced. The drivers included several students from an exclusive boarding school who didn't hold full drivers licences.
It could have been a whole lot worse though. Drivers in Canada face high penalties in dangerous driving and street racing situations. The police now have the authority to confiscate and sell the cars of those who are convicted of such offences.
[Via Jalopnik]