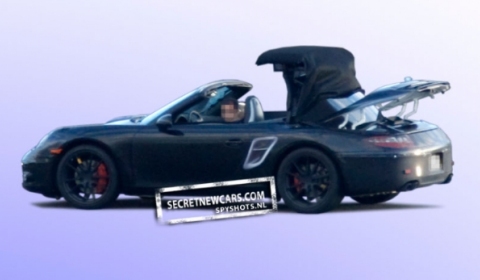 With the public debut of the 2012 Porsche 911 (991) Carrera and Carrera S coupe in a few weeks time at the IAA 2011, we are already looking forward to other models like the new 991 Turbo, 991 GT2, 991 GT3 and the convertible version of the Carrera and Carrera S.
Some may have hoped that Porsche would release a convertible version of their 991 model version anytime soon, but it looks like we will have to wait until early next year. According to German Car forum, the roof of the sports car will be a combination of a metal folding roof section and a canvas covering the construction and the metal roof parts.
This news follows after initital information, which stated that Porsche filed a patent for a four-panel metal folding roof. This suggested that Porsche would actually follow the likes of the Ferrari California, but recent spyshots suggest something else. An intensive search by the German website has revealed a patent US 7,607,715 B2 which holds the twist. Porsche is apparently set to combine a regular canvas top with a metal folding roof. The patent images show the schematics of a convertible roof halfway through its operation.
The wind screen would to the left of the image, the rear of the car to the right. The roof comprises of four panels with at least the first (no. 5 in the image) and fourth panel (no. 22 in the image incl. rear window) being sheet-like penals, i.e. metal panels. The suprise however is the canvas top layer covering the whole roof. This canvas layer is fixed permanently to the whole area of the first and fourth panel (no. 5 and 22), yet it's fixed to the two panels in the middle only partially. This allows the canvas to remain flexible in that area during roof operation.
Looking at the spyshot of the 991 Carrera S convertible above, German Car Forum could be right with their findings. If so, the setup provides the 911 convertible to have a signature 911 roofline normally found on coupe models only.