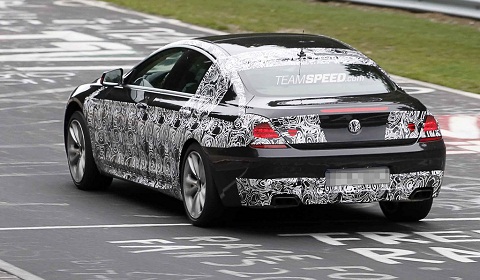 For a while now, BMW have been toying with the idea of a CLS rival. This project has finally been given the green light and will be produced under the 6-Series name as the Gran Coupe. Teamspeed's spy photographers have caught the luxury coupé testing at the Nordschleife over the past few weeks and we thought we'd share with you, a few of those photos.
These particular pictures appear to show a Gran Coupe with an M-Sport package. There's still a minimal amount of camouflage but we can clearly make out the elongated 6-Series shape and the handsome lines running the full length of the side.
L-shaped LED lights are a feature of the rear. The elegant third brake light that we saw at the top of the rear window on the concept has also been moved to the top of the boot for the production car. We can't wait to see the new four door 6-Series, we'll keep you updated.