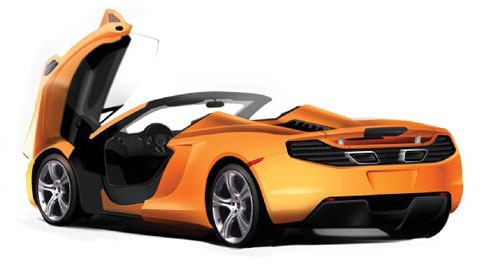 It doesn't come as a surprise that McLaren has plans for a full model range. There are already at two more completely new models in the design and development pipeline, next to two variants of the MP4-12C (Spider and a hardcore version). MotorTrend revealed some interesting news today about McLaren's future lineup. McLaren plans to follow a three-tier range, with variants such as cabrios in each tier. The MP4-12C (codename P11) is the middle tier, going against the Ferrari 458 and Lamborghini Gallardo.
The next car up is codenamed P12, a hypercar rival at the Lamborghini Aventador level, and a successor to the benchmark McLaren F1. There will also be a cheaper range, codenamed P13, a non-turbo Porsche 911 alternative. All the new range will be "true McLarens," says Antony Sheriff Managing Director of McLaren. "Whatever we do will be based on carbon. It will have performance and handling that's the best of its segment."
McLaren's plan is to use the MP4-12C's carbon-fiber monocell tub for all models. This piece forms the central structure of the car-the front bulkhead, sills, floor, and rear bulkhead. It's made by a process that holds some 25 pieces of dry carbon-fiber matting in a single large tool while resin is injected. This is far cheaper and faster than laying up pre-impregnated sheets of carbon fiber and curing them in an autoclave.
McLaren built eight crash prototypes of the MP4-12C to ensure the monocell is able to pass all global standards. Developing future cars using the same monocell will be quicker and cheaper because redesigning, retooling, or retesting won't be required. Even with that shared basis, the other cars can have different wheelbase and track dimensions and different engines, though they'll always be mid-mounted.
What does this mean for future models? After the recently revealed GT3 racing MP4-12C, there will be a softtop version of the road car. The fact that so much structural strength resides in the tub is an obvious advantage-you can expect the roadster to be more rigid than its rivals, as well as lighter.
The next model is the P12. This will be the top expression of McLaren's motorsport-engineering philosophy. Despite running 800 horsepower or more, its weight shouldn't be vastly different from the 12C's because it will use more carbon fiber, including the crash structures and body panels. Active aero, Brake-Steer, and ProActive chassis might not be allowed in sport, but they follow the philosophy, because they allow faster lap times with less weight than conventional solutions.
Design director Frank Stephenson says the P12 and P13 won't look like different-sized replicas of the 12C. But there will be certain McLaren design cues: the dihedral door hinges, which aid entry; the glasshouse; a very low cowl for good forward visibility; the hidden rear lamps; even more detailed headlamp units compared with the 12C's; and an overall simplicity of design. Stephenson says the 12C's twin-blade side air intakes are probably not the most successful part of its styling-they were needed for functional reasons to turn the cooling air inwards toward the radiators.
According to MotorTrend the P12 will be shown within a year and a half (Geneva 2013); the P13, which has already passed design signoff, will be seen a year after that.
[via MotorTrend]