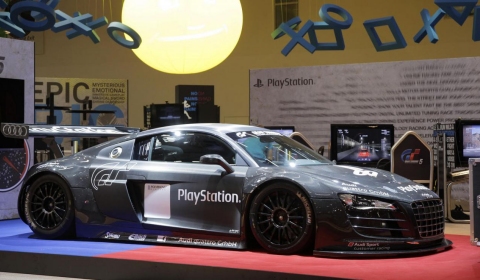 As of this week, a simulator sporting the style of the Audi R8 LMS will be available to all visitors in hall 7/PlayStation booth at the trade fair for interactive games in Cologne. In the Audi R8 LMS Racing Simulator the players can experience Gran Turismo 5, the game for the PlayStation 3 by Sony PlayStation in Germany, as if they were in a real-world race car.
The experience begins with the instruments as all relevant game data is shown on the original racing display. The authentic race steering wheel is connected to the PlayStation-3 system as well. When the driver turns the wheel the impulses are transmitted by steering angle sensors in real time. The paddle shifters in the steering wheel also address the microprocessor and issue shifting commands to the computer. The same applies to the pedals.
Acoustically, the game has an authentic effect due to a sophisticated Dolby Surround system that transmits the sounds of the game into the cockpit. The vehicle dynamics effects are the main highlight though as the Audi R8 LMS by no means statically rests on its wheels. Instead of the standard springs and dampers the suspensions are controlled by pneumatic cylinders, allowing body movements of up to 150 millimeters to be simulated. The physics of driving are felt in the cockpit and the player has the feeling of actually driving a race. He or she feels all the centrifugal forces while cornering, braking and accelerating.
You could this the ultimate racing simulator.