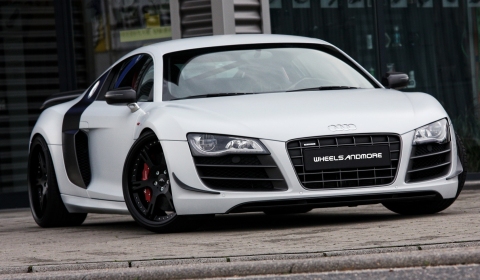 Wheelsandmore has released their weight- and performance optimized conversion of the actual Audi R8 GT, called the Supersport Edition.
The engineers at the German tuner developed a special performance package for the Audi R8 GT. Not only the sound, but also the throughput and the weight of the standard exhaust system were optimized. The result is a 40 percent lighter system with remote valve flaps, handcrafted of stainless steel. Combined with the specially tuned electronics the Germans offer 611hp and 585Nm of torque. Wheelsandmore specifies the top speed at 335km/h and the acceleration sprint from 0-100km/h within 3.3 seconds.
The matte black coated lightweight handcrafted three-piece forged wheels are sizing 9.5×20 inches in front, combined with 245/30/20 Continental Sport Contact 5P tires and 11.0×20 inches at the rear with 295/25/20 Conti tires.
An improved suspension performance is realized using a KW-Automotive setup with a LCS hydraulic lift up system. Via a remote control the system provides an additional road clearance of 40mm to avoid expensive damaging. The separate and independently adjustable rebound- and compression damping allows an individual setup for different uses and preferences.
For more information on the package please contact Wheelsandmore.