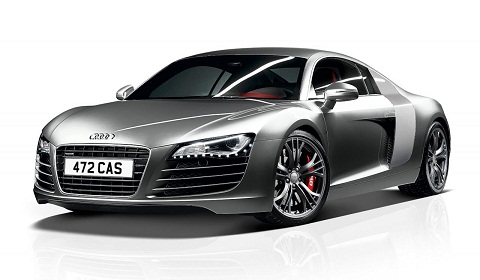 The Audi R8 supercar has been a great success story for the German car maker since its release in 2006. The mix between a mid-engine, two-seater sports car, and Audi's quattro all-wheel drive system has led to six different versions over the past five years.
For next year the Germans plan a decent performance upgrade. The 2012 model lineup will get a range of stronger engines. The 5.2 liter V10 will be tuned to a 533bhp, which is up from 518bhp. Sources reported to CAR that the seven-speed dual clutch S-tronic gearbox will be launched for the first time. The entry-level Audi R8 and its 4.2 liter V8 will be upgraded to the same spec as the Audi RS5. The power will go to 444bhp, up from 424bhp.
The rumours also reveal that there will be new GT and GT Spyder variants. It is unknown if any interior, exterior or other technical changes are considered. Stay tuned for more in the upcoming months regarding the newly improved 2012 Audi R8.